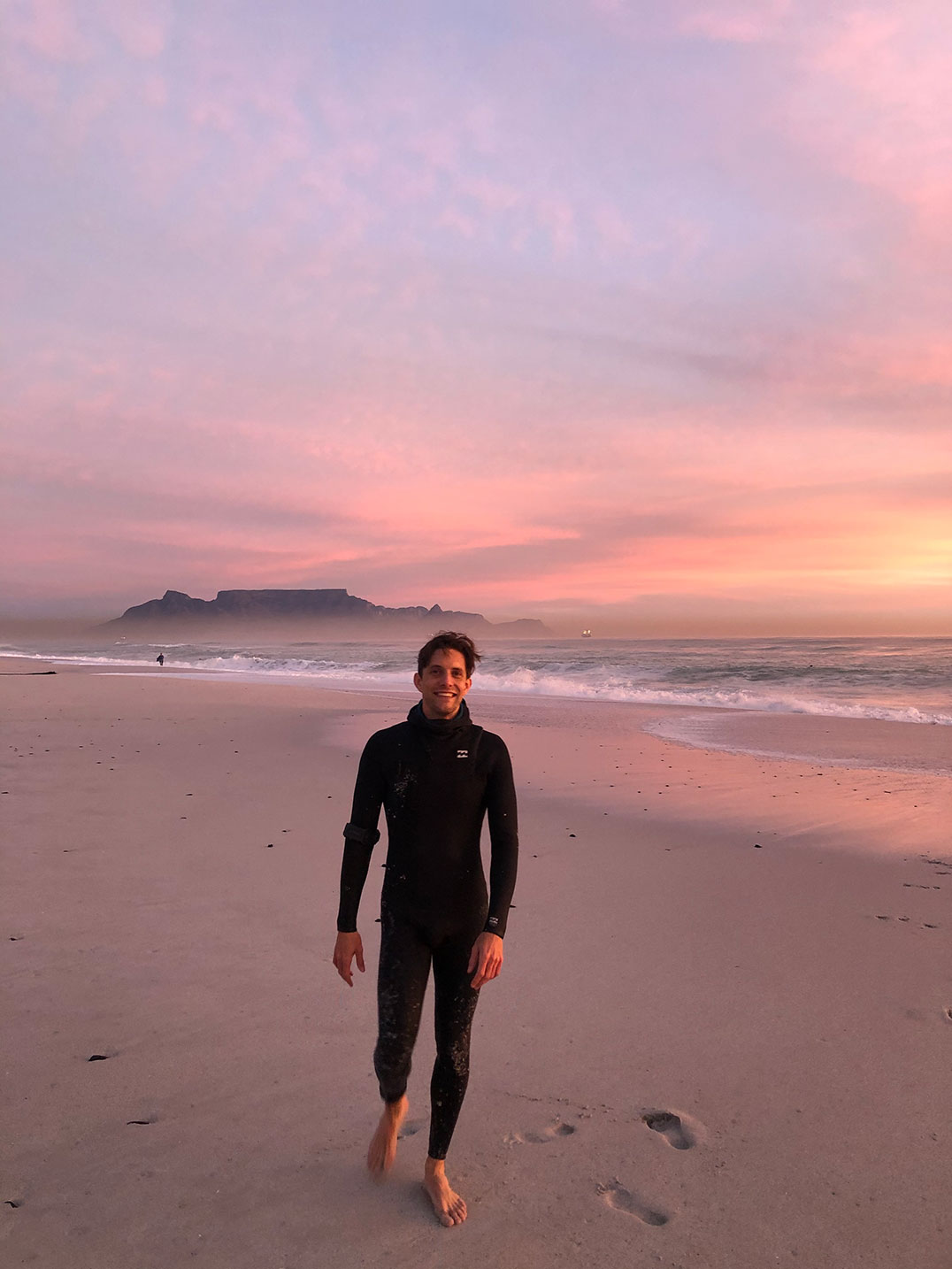 27 Jun

What To Expect From Dating A Surfer

Growing up, I spent almost every weekend on the West Coast in Yzerfontein. I absolutely love the ocean and a great chunk of my childhood was spent either swimming in the deathly cold waters of the West Coast, building sand castles, catching klipvissies or as I grew older – tanning and reading on the beach.

I am a summer baby through and through. There is no place I am happier than by the ocean. Imagine my joy when I discovered that the guy I was into surfs and is always keen to take me to the beach…And then leave me there and disappear for 3 hours.

Do you have your sights set on a surfer? This is what you can expect from dating one.
"Surf" is an overarching term
Firstly, let's talk terminology. The term "surfing" seems to be a loose term applying to all forms of wave riding. When I first heard that JP surfs, I pictured him on a shortboard. Turns out he's mainly into bodyboarding, which I quickly learnt requires an equal amount of prowess.
There is always some fight between bodyboarders and surfers.
Yes. Actual arguments break out in the water over waves. One of the funniest things I've heard from a surfer is that a bodyboarder is just "shark bait". However, JP refers to himself as a "doormat", "gut slider", "booger", "speed bump", "maggot"…
You will spend a lot of time hearing about swell
When they are not looking at swell charts, they are phoning friends about the swell or looking at webcams of swell.
It is imperative to STARE at the ocean before heading in
Right, so after all that talk and research about swell – your surfer might decide to finally just go to the beach, at which point they will then STARE AT THE SWELL.
There's a lot of snacks involved
Surfers respect and acknowledge that hunger is real. Your hunger might cut their surf short, as you might murder someone on the beach, which in turn would mean that they'd need to go home. Therefore they will always have enough snacks for you.
You will need to be comfortable with being alone for long
There really is no telling how long they will surf. You'll need to be content with being alone and ravaging books, swimming and people-watching.
Pro tip: "I'll only surf for an hour" is never the truth.
You will learn how to Bear Grylls on the beach
There will be times where your surfer might stay in the water for too long, leaving you alone on the beach to fend for yourself. The wind might pick up and blow your umbrella away 6 times. You might find yourself having sand in your eyes, your snacks, your crack. The sun might be setting and the cold wind on your skin will cause you to shiver as you think about your life back home…where it is warm and you are loved.
You will learn inner strength in these moments.
Or you will learn how to call your surfer out.
Calling your surfer out is an art
I've only had to do it about three times, but I failed dismally every time. For one, it is physically impossible to get close enough to actually lock eyes with them to show that you are gatvol. And they can't hear you over the roar of the sea. Secondly, they all look alike in the water. Maybe that one with the wetsuit is mine? Oh, wait no, it's just another one with a wetsuit. Thirdly, they ALWAYS have their back towards the beach, so not even hand signals can work.
A girl once told me that another surfer's girlfriend taught her how to shout at her boyfriend from the shore. Incredible. Years of evolution lead us to this.
The closest I've gotten to it was when I sat on the beach at Llandudno for hours, and after the umbrella blew away for the third time and the sand was leaving welts on my legs – I got up and STOMPED to the water. A young surfer was just coming out of the water, so I calmly walked up to him and asked if he'd seen a "bodyboarder with an orange board" in the water. Okay, maybe I wasn't calm. Maybe I was straight up befok. I could see the fear in his eyes.
Turns out he hadn't seen him. But hell hath no fury like a woman with sand in her butt crack. JP came out soon after.
They all look alike until one day they don't
I used to lie to JP and say that I saw him doing cool tricks in the water, because as I explained earlier – there's no telling surfers apart when there are so many of them out and they're so far away. But two and a half years in I can now update my Surfer Girlfriend LinkedIn to: Can Identify Boyfriend in The Water.
The car always has a minor whiff of wet dog
If they surf in the middle of the week – that smell might even penetrate into your work clothes if they give you a lift to the office. #Blessed
There is no hunger like a post-surf hunger
When they come out of the water, no food on this whole planet is safe. They will Pac-Man everything in sight.
Capitalise on it. Mention any food you've been dreaming of and they will get it for you.
You will learn that you can fit a surfboard into any car
I have seen guys pull whole ass longboards out of the smallest cars.
Your bathroom is just a beach at home
Why leave the beach when you can just take it home with you? Your bathroom will become home to sand, sunscreen, wet towels, a wetsuit, fins… Did I mention sand? Sand in your shower, on your floor, on your hopes and dreams. Everywhere.
Water comes from all orifices
After a surf, even hours later, seawater will still be coming from your surfer's nose. There have been times – post-surf – where seawater has streamed from JP's nose into my mouth when he kisses me.
You'll always go to awesome beaches and holiday destinations
Your weekends and holidays will never be boring. Since dating JP, we have done trips up the West Coast to Saldanha, Elands Bay and Lambert's Bay, we've gone to De Hoop in the Overberg, Harold's Bay and Victoria Bay in the Garden Route and Port Elizabeth, Jeffrey's Bay and St Francis Bay in the Eastern Cape. Most weekends we patrol from Blouberg, to Rocklands in Sea Point to Llandudno or Kommetjie. And we have dreams of travelling to Morocco, Sri Lanka and of course – Bali for future beach/bodyboarding holidays.
All in all, you are in for a good time if you're dating a surfer. Just make sure you always have toilet paper, snacks and a good book. And possibly a rain jacket for when you want to make out post-surf and you get hit by the seawater nose.