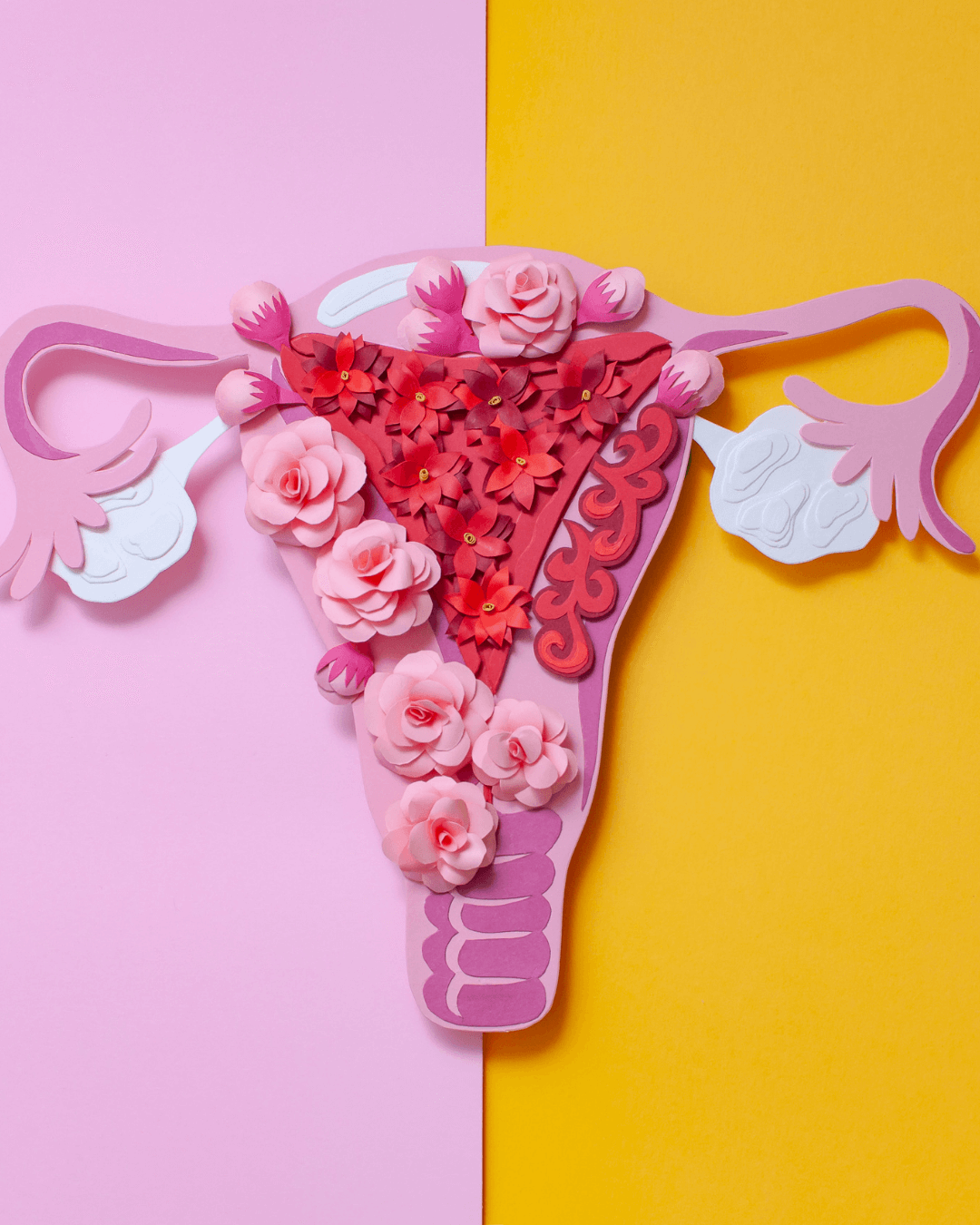 26 Oct

My unexpected journey with endometriosis

I was diagnosed with endometriosis a few weeks after my 30th birthday this year. I wanted to share my journey with you; how my symptoms started, how I got diagnosed and how I am doing today. I hope that by sharing this I can help one of you to get diagnosed, or help you feel less alone with your diagnosis.
What is endometriosis?
The endometrium is the lining of the uterus; endometriosis happens when endometrial-like tissue grows outside the uterus on other organs, such as the ovaries, fallopian tubes, bowel, and outside walls of the uterus. (Source: Everyday Health)
This tissue can cause:
– Cysts
– Scar formation
– Adhesions, in which tissue binds your pelvic organs together
– Severe pain during your periods
– Infertility

Source: SMG Women's Health
How it started
My story started in late December 2020, the day after the president announced lockdown and the beach closures. JP and I were on a mini-cation in Somerset West. Like most of the country, we weren't feeling the holiday spirit like previous years.
The day after the announcement, I woke up, ate breakfast and watched shows with JP. While we were chilling on the couch, I suddenly felt an excruciating pain in my abdomen. JP had to help me walk to the bathroom, where I discovered my period had started. I ended up lying on the bathroom floor, nauseous from the pain, while I waited for the medication to kick in. After a few (horrible) hours, the pain eventually dissipated. At that stage, I thought it was just vicious period pains.
Later that evening I was reading on the couch, feeling so relieved that I'd made it through the day. Within a matter of seconds, I was in the worst pain of my life. I started shaking and sweating while my teeth chattered uncontrollably. JP was outside and he couldn't hear me calling him, and I still remember the sheer panic I felt that I was in too much pain to walk outside to get help.
We were both spooked but uncertain of what to do. Under normal circumstances, we would've gone to the hospital. But this was during the second wave when everyone suddenly had COVID. The hospitals were full, the president had just adjusted the lockdown level due to skyrocketing numbers and the world just seemed too manic to go to the ER.
The next day my stomach was swollen and uncomfortable, so I went to a GP in Somerset West who did a blood test to rule out an ectopic pregnancy or miscarriage. We chatted about the possibility of endometriosis and she advised me to see a gynaecologist.
My early symptoms
Endometriosis is a strange condition in the sense that someone who has stage 1 endometriosis could have more pain than someone with stage 4. The number of cysts an individual has does not determine the level of pain. While I would later find out that I had stage 4 endometriosis, my pain was sporadic.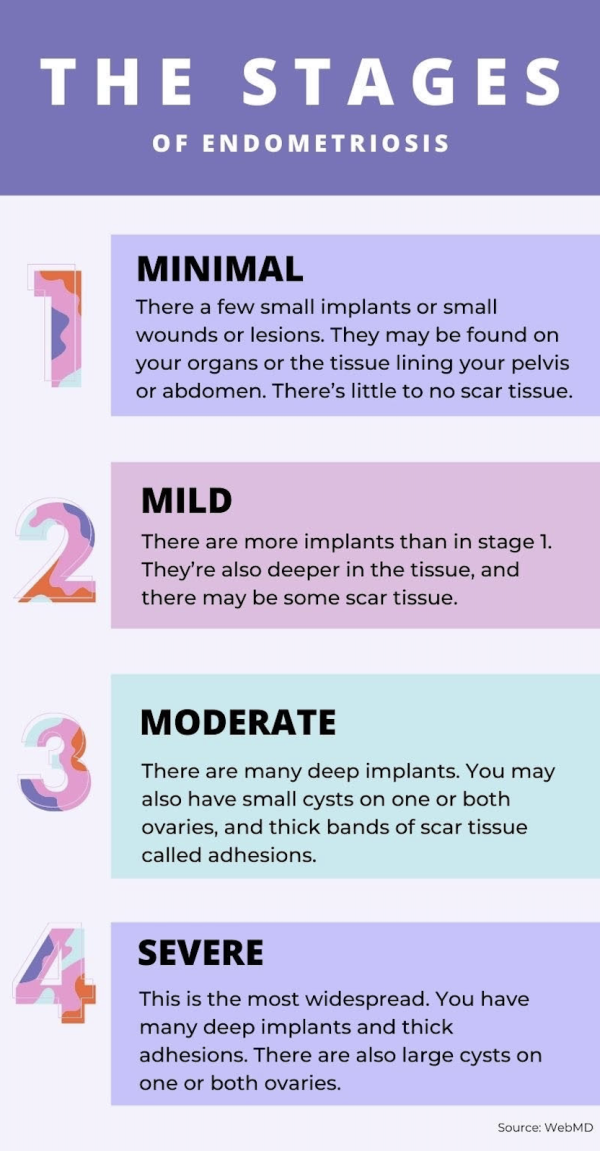 Before the December incident, the only symptoms I had were heavy periods, which were often coupled with period pains, and pain during intercourse – a very common symptom.
After the December incident, I pretty much had IBS-like symptoms. Every time it hit, it felt like a tiny sword was cutting into my colon and I would have to run to the bathroom immediately. (Luckily, I was working from home at this stage, but there was a day where the colon-sword hit when I was in H&M, and the stress was REAL.)
During this time, I also experienced rectal pain, which would range from light cramps to not being able to lift my leg to put pants on. The worst pain was right before Easter weekend when it would knock my breath away every time I tried to just put jeans on.
I went to a GP who gave me Buscopan, as he believed the rectal pain to be IBS. As I mentioned earlier, endometriosis is a very tricky beast to diagnose.
How I was diagnosed
In April, I finally got an appointment with the gynaecologist. During the consultation, I explained my symptoms to her, and she said that it would be difficult to diagnose with a scan. She advised me to see a gastroenterologist and an endometriosis specialist, who would have to perform scopes to determine the cause. I felt so drained. It sounded like an awfully long – not to mention expensive – journey.
When I lay down for the scan, she found a 7cm cyst on my ovary. I felt a flood of emotions. As much pain as that cyst had caused me, I was relieved that it had grown to that size, because it meant that the doctor could detect it on the scan. I was also confused because I'd gone for yearly scans and never knew something was wrong. The worst emotion was fear, as I thought it was cancer.
Luckily, my pap smear results were normal. The cyst was declared an endometrioma (a cyst that is filled with dark brown endometrial fluid) and I was referred to Dr Viju Thomas, an endometriosis specialist at Constantiaberg hospital.
But first, more pain
A few days after my visit to the gynaecologist, I woke up in the middle of the night with similar pain to what I had experienced in December – only this time it was worse.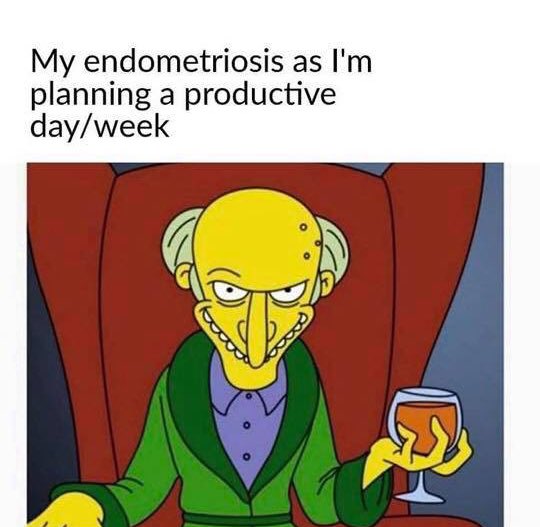 It was also my first time experiencing this outside of my period, which scared me a lot. Previously, when I thought it was linked to my period, I felt a sense of control. The day-to-day symptoms (like IBS) I could handle, but this pain was instantly debilitating and I was terrified of it hitting when I was at work or driving.
Meeting Dr Thomas
I couldn't wait to see Dr Thomas. I had so many questions after I visited the gynaecologist, and I was desperate to have the cyst removed. During my first consultation, we chatted about my symptoms, the possibility of infertility (and my options), how they would perform the ultrasound to look for more cysts and what would happen during surgery. It was… a lot. I was so grateful for his thoughtfulness and bedside manner.
In my second consultation, I went back to Constantiaberg for an ultrasound. I was very nervous because my symptoms had worsened. A week before the consultation, I'd suddenly started developing severe bladder pain. This was like nothing I'd ever experienced in my life. I got so scared of the pain that, as a grown woman, I started calling JP to stand with me in the bathroom just so that I wouldn't be alone when it happened.
This wasn't like a UTI. The best way I can describe it is that it felt like my bladder was being crushed and released by a bodybuilder.
The ultrasound was very thorough, but invasive. (Let me just say, they looked everywhere.) I'd explained to the doctor where I'd been experiencing pain during intercourse, which helped them to find a lesion between my uterus and bowel.
They also discovered that my cyst was in fact 10cm, which shocked me. That is the size of a 3-month fetus. Where was I even storing it? Dr Thomas mentioned they could see other issues, but they'd only know the true extent of my endometriosis when they went in with the scope. The lesion was a concern, as it would require more intricate surgery.
I wanted them to do the surgery as soon as possible, but this was during the peak of the third wave and I, unfortunately, had to wait.
A ruptured cyst
On the first of July, I was getting ready to go to the office to meet a new colleague when I felt a flash of pain in my abdomen. This was the start of one of the worst days of my life.
I immediately called JP for help, and within minutes I was experiencing a blistering fever, nausea, chattering teeth and convulsions. JP had to help me get undressed because I couldn't stand my clothes touching me, but I was in too much pain to do anything for myself. He notified my colleagues that I wouldn't be coming into the office and managed to help me lie down.
I drank two Arcoxia tablets, but after an hour there was no difference. I then took two Myprodols, and still, nothing changed. By noon, my pain still sat at a solid 9.5/10. The pain was so crippling that I couldn't sleep, get up, turn around in bed or even hold my phone.
While I was going through this, my dog came to lie next to me and rested her head on my stomach for ages. She'd never done this before, and I truly believe she knew where the pain was.
We eventually went to Dr Thomas, who was concerned that my body wasn't responding to the pain medication. He wanted me to be hospitalised for observation, but I requested that they first give me stronger medication to see if it works. He prescribed me Xefo and Targinact, a very powerful painkiller, and did a blood test.
I wanted the medication to work so badly, but I realised I was in trouble when two hours after taking it, I was still in a very bad way. My doctor called me that evening and said that my blood test showed an infection, and I had to be admitted as soon as possible.
In true Anja fashion, my priority was to wash my hair. I could barely walk, but best believe I wouldn't let that stop me. I SAT in the shower and washed my hair. Did it make me feel more in control of the situation? Yes, it did.
I didn't want to be hospitalised, but when I was admitted, I felt so relieved that I would finally get the help I needed. They took blood tests, examined my abdomen, put me on a drip and wheeled me into my room at 2 am.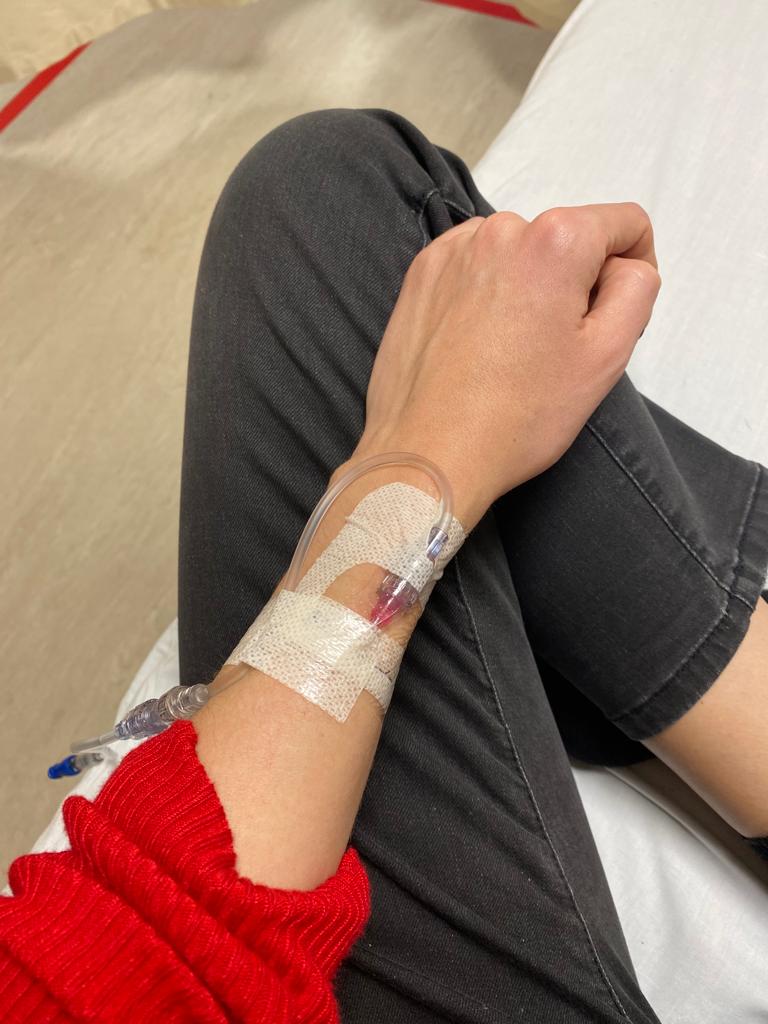 I ended up having to stay in the hospital for 3 days, during which they did an MRI to rule out appendicitis and found that my 10cm cyst had ruptured partially, which had caused the infection.
I regret going back to work too quickly after this. I should have given my body more time to heal, but I did not realise the full extent of what my body was fighting. After my cyst had ruptured, I was tired and nauseous for weeks afterwards. For a while, I was even off certain foods and I always had a 'full' feeling. It wasn't great.
I would only learn that later in the year, when they did my laparoscopy, that the cyst had left behind a litre of old blood.
Laparoscopic surgery
In September, my doctor finally got clearance to perform my surgery, as the third wave had passed its peak. As with all endometrial laparoscopies, my doctor warned me about the possibility of finding more endometriosis when they went in.
He ended up operating for 4 hours. They found approximately 10 cysts, fibrosis and as mentioned before, old blood from the ruptured cyst. The lesion was also removed successfully.
Not all of my cysts were endometriomas, which led my doctor to believe that I might have PCOS and endometriosis.
Polycystic ovary syndrome (PCOS) is a condition that affects a woman's hormone levels. Women with PCOS produce higher-than-normal amounts of male hormones. This hormone imbalance causes the body to skip menstrual periods and makes it harder to get pregnant. A common symptom is cysts on the ovaries. (Source: Healthline)
The IBS issues and bladder pain I'd experienced the entire year was due to the cysts completely "squashing" my bowel, ovaries and Fallopian tubes to the side. My doctor explained to me that the bowel and ovaries should be free flowing, meaning that your bowel should be free to fall to the side you're sleeping on at night, for example. Mine was completely constricted. By removing the cysts, they essentially "freed" those organs, but unfortunately, there was nerve damage.
I was in a lot of pain straight after my surgery, and couldn't get up to go to the bathroom while I was still in the hospital. They inserted a catheter to help with this. The next morning I was still struggling to sit up and walk, but the worst pain was in my shoulders.
During a laparoscopy, they pump you full of CO2 gas to elevate the abdominal wall above the internal organs to create a working and viewing space. This shoulder pain is due to the phrenic nerve irritation to the diaphragm caused by the CO2 gas that remains in the abdomen at the end of the procedure. This pain lasts for about a week after the surgery. I was booked off for two weeks to recover.
My tips for recovery:
– Make sure that the person who fetches you after your surgery has a low car. I wouldn't have been able to get into JP's bakkie.
– Get a comfortable nightdress. Your stomach will be very bloated for two weeks and it's difficult to wear pants.
– Make sure you have lots of entertainment because you will spend a lot of time lying down initially.
– After two weeks, you will start feeling significantly better. (Therefore the surgery is minimally invasive.) The bloat will remain for a while, however.
– In terms of scars, you will have a few small incisions and a scar in your navel. I have been using Fagran Nourisil MD Silicone Scar Gel on my scars and it's definitely made a difference.

Let's talk medical aid
I went on JP's Discovery gap cover at the beginning of the year and thought it paid part of my hospital visit when my cyst had ruptured, but I was mistaken. All of that was paid by my medical aid plan (Discovery Smart Classic). This included the MRI they took while I was in hospital.
When I had to go for my laparoscopy, I phoned Discovery for pre-authorisation and they confirmed that my gap cover would pay the shortfall. This was untrue.
Discovery gap cover has a year waiting period for dependents, which they never disclosed to me or my broker. When it came to me submitting the excess for my surgery, they rejected the claim stating that I was still in my waiting period – even though I'd been paying a monthly fee for it the whole year.
Why did they not disclose that to me when I phoned for pre-authorisation? Why take my money monthly for something that will only benefit me after 12 months?
The whole system failed me, and both JP and my broker tried to fight it, but unfortunately I had to pay a significant shortfall in the end.
Hopefully this knowledge can help someone else to not fall in the same trap.
How I'm doing today
It's still early days, but the surgery has definitely increased my quality of life significantly. No more colon-sword, bladder pain or fear. The peace of mind of knowing that I won't be hit by that debilitating pain makes it 100% worth it.
I had to come to terms with the fact that I will always have endometriosis, and the surgery was merely to control it. Most people who suffer from endometriosis will have multiple laparoscopies in their lifetime and will need to take chronic medication to suppress it. It was important for me to understand this and make peace with it.
After my surgery, they put me on Visanne which is a progestin medication that is used in birth control pills and the treatment of endometriosis. I'd heard wonderful things about Visanne from many people, but unfortunately, I've always been very sensitive to hormone medication and I really struggled with the side effects. I spoke to my doctor about my options, and I have opted for the Mirena, which I will get in January.
This year has been a health rollercoaster, but it has taught me that I am much more resilient than I thought. It has also shown me how quickly your circumstances can change, and how important it is to not only take care of yourself, but to appreciate your health.
I wanted to say thank you to everyone who reached out to me after I posted about my surgery on social media. I suddenly found a lovely community of cysters and I am grateful to each of you for your kindness and advice. I hope this article can do the same for someone else.