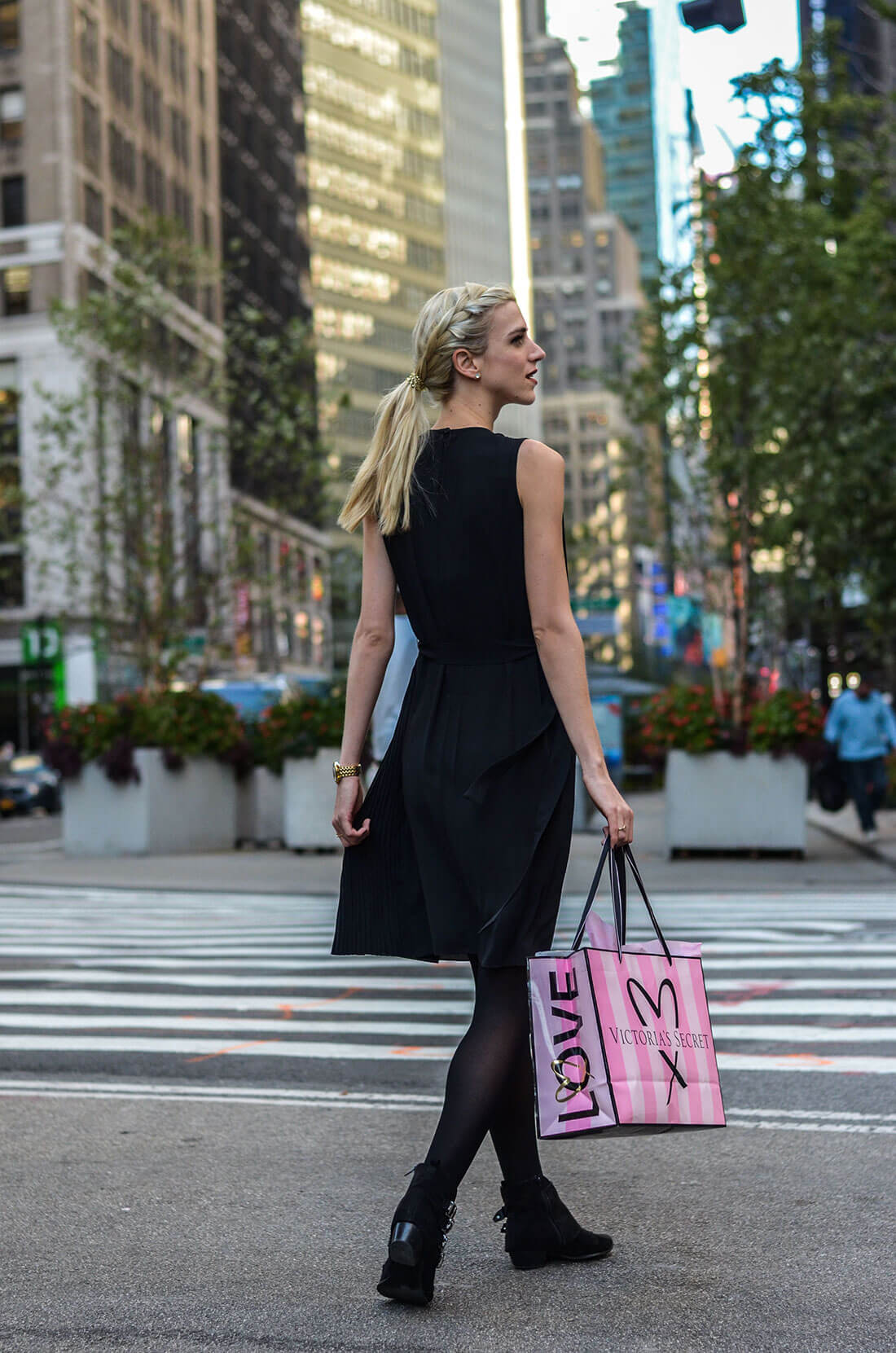 05 Jan

How To Go To New York

I have been putting this article off for weeks. Partially because I haven't had the time, but mainly because I didn't want to look at my New York photos again. I enjoyed my trip so much that my photos make me sad. Yes, I know. That makes no sense.

I decided to title this blog "How To Go To New York" because a lot of you asked me about my flights and accommodation. I also wanted to prove that New York is not as unattainable for South Africans as we may think. If New York is on your bucket list, I really hope this article will help you to get there in 2018!
How to get your visa
Everyone told me scary stories about their USA visa applications and maybe I was just lucky, or maybe it's because of my perfectionist personality, but my application was fairly seamless. First, you'll need to apply for your visa online here, then you'll book an appointment for your visa interview at the embassy in Westlake. This is quite costly, I can't remember an exact amount, but it was in the R2 000 region. Your USA visa is valid for 10 years, so it is totally worth it.
I was extremely nervous for my interview, but it wasn't nearly as bad as I thought it was going to be. It takes maximum 10 minutes, and the questions they ask depend on your reasons for visiting the States. In my case, I was asked why I am visiting, who I am going with, where I am working and for how long I will be visiting. It is important that you show them that you are by no means interested in staying longer than your holiday, and that you won't try to work there.
You do NOT have to book your flights before going for your visa interview. They make this extremely clear on their website, so please do not listen to people who tell you that you need to. This might be the case for other countries, but the USA only requires accommodation details.
How to book your accommodation
Okay, so here's the deal. Some people go to New York to live the high life in beautiful hotels and fancy restaurants. If this is your goal: YOU GO, GLEN COCO!
But it wasn't mine. My goal was to find the cheapest accommodation possible so that I would have more $$$ to do sightseeing and shop. I was genuinely prepared to live in a dumpster. Luckily we found an affordable room in an apartment in Upper Harlem. We only saw our host twice throughout our entire trip and we basically had the whole place to ourselves all the time. We paid R13 075 for two people for two weeks. So, R6 537.50 each for 14 nights in New York City. Not too shabby, hey Nige?
This area was super central and safe, and we lived right on the 1-line which takes you directly to midtown. When you book accommodation, don't think that you need to stay in an expensive area to be safe. New York is safe. I also guarantee you that you will never, ever be at your accommodation. You will go home at 24:00, completely wrecked, fall in your bed, shower the next morning, eat and repeat.
The city truly never sleeps.
How to book your flights
We did this pretty willy-nilly. We went on Cheap Flights, looked for the cheapest flight with the shortest layover and BOOM. Tickets booked! We ended up flying with Emirates via Dubai. Our return tickets came to about R12 000 each, and we had a layover of 1 hour. Yes. 1 hour. On our flight from Cape Town to Dubai, our boarding gate was very far from where we landed and we had no idea how to get there. JP and I got off the plane and RAN. But Emirates is so organised, that when we got to passport control an Emirates representative was waiting for the two of us to help us get to our gate on time. And we made it!
How to plan your trip
New York is a very overwhelming place to visit. There really is so much to do. Before going there, I created a calendar on Google Drive and plotted one place I wanted to see for every day of the two weeks we were going to be there. Then, JP and I went to Google Maps and checked which places are close to each other. We then grouped these places together. For instance, the MET Museum is on 5th Avenue, which is right by Central Park. Three places I wanted to see – one trip to midtown. Done!
Also, check which bands/artists are playing during the duration of your trip. While I was there I watched Paramore and Best Coast, and I almost bought a Katy Perry ticket because it was so affordable! I guarantee you that there will be an amazing artist playing in the period that you have planned to visit. Don't miss out – check Ticketmaster before you go.
How to get around
When you get to New York, go to your nearest T-Mobile and ask for their tourist package. It is the most fantastic invention since biltong, seriously. This package includes a sim card, 4GB LTE and unlimited data for 3 weeks. The package is only R367.64! After three weeks your "contract" expires automatically, so if you are staying for longer – just go and buy another one. They are extremely helpful and efficient. I think this was one of my favourite parts of visiting a first world country; the freedom to jol Internet wherever I go. It was not uncommon to see people sitting around in public areas streaming the news or watching YouTube videos.
One afternoon we were out shopping, and I wasn't sure about something for my mom. So I video called her without a second thought. That ten-minute video call over 3G in South Africa would have cost the same as a college tuition. But I digress. The reason you should get a sim card there is to be able to use Google Maps. Maps will show exactly which trains and buses to take and if they are delayed. It is scarily accurate!
Once you get to New York, purchase a weekly unlimited train ticket for approximately R500 at any of the subway stations. This will allow you to take the train to your heart's content.
The subway is by far the easiest and most cost-efficient way to get around. Take the time to understand its structure, don't just jump in an Uber. Uber is very expensive and you will be wasting money unnecessarily.
Pro tip: Wear comfortable shoes every day, because you will WALK AND WALK AND WALK. On one particular day, we walked so much that I started limping. My feet couldn't handle it anymore!
How to save on attractions
Here is a life-changing tip: so many of the attractions in New York has one day where entry is free. Google the places you want to visit and check their admission fees. The MET has a "Pay As You Wish" admission fee, which means you can literally pay anything from $1 to $100.
The Museum of Modern Art is free on Fridays.
The New York Aquarium is free after 15:00 on a Friday.
The Staten Island Ferry is free and you can see spectacular views of Manhattan from it, as well as The Statue Of Liberty.
Seriously, check Google before just forking out the dollars. With good planning, you can save so much money. Side note: New York is so magical, that merely walking down the street is fulfilling. One of my favourite days was when we accidentally ended up on Wall Street. I loved the architecture and atmosphere.
Where to shop
New York is designed for shopping. You might go there thinking you won't shop, but trust me – you will. To me, as a South African, it was a waste of time going to Forever 21, H&M or Zara. Everything is the same quality and prices as here.
Go to Macy's, even if it is just for their customer service. We accidentally went to Macy's on Christopher Columbus Day and they had a HUGE sale on. There were people EVERYWHERE. Yet, I wasn't even looking at a pair of shoes for 5 seconds when a lady came up to me to ask if she could assist me. When I asked her for a size 8, she took out a device to check if they have stock. She then asked my name, typed it in, sent someone to collect the shoes for me (in a store that is the size of a shopping mall) and within minutes it arrived. It didn't fit me, so she took the device out again and had another pair of shoes brought to me.
But this is the service you'll get at all their stores. At Victoria Secret, I was basically carried on the shop assistants' hands like a South African princess. The staff at the bigger retailers are all kitted out with Bluetooth headsets in order to speak to each other quickly and efficiently without leaving your side.
I managed to stay relatively calm in most of the shops, but I honestly lost all rational thought in Century 21. This is the place dreams are made of. Century 21 is an outlet for high fashion brands such as Jeremy Scott, Yves Saint Laurent, Miu Miu, Diane von Furstenberg… The list goes on and on. It's one of the most amazing retail experiences I've ever had. I bought a Karl Lagerfeld jacket for R500 and a Michael Kors belt for R300. You'll lose your mind in Century 21, I promise you.
So if I can give you one tip: GO WITH EMPTY BAGS.
Where to eat
This is the biggest expense in the States. Food is not expensive, it is kak expensive. On our first night in Harlem, we decided to go to McDonald's. After living on airline food for 23 hours, all we wanted was a salad. We ended up paying R250 for two salads that consisted of 90% lettuce. It was bleak.
After that, we decided to buy most of our meals from grocers to prepare it at our Airbnb. It is exceptionally expensive to eat at restaurants, and even take away places were costly. But our local grocer had fantastic deals on meat, croissants and cheese. Grocery shopping was so much fun – I struggled to keep cool in the cereal aisle because they had ROWS AND ROWS full of the weirdest, most wonderful sugary cereals. They also have bulk-sized everything, it felt like we were shopping at Makro every day.
They're not fond of cheap veggies and fruits, either. On one particular night, after a day of binging – all I wanted was tomatoes and grapes. I was craving it in the same way that I crave chocolates in South Africa. Only…it cost more than chocolates. In fact, 3 tomatoes ended up costing me R90.
If you're out and about and you'd like to grab a quick bite to eat – go to a diner. The Americans love big portions and you'll eat like a king. (Later you'll poop like one, too.)  We also loved Shake Shack, Five Guys and The PokéSpot.
The only reason for you to ever go to McDonald's is to use their bathrooms.
The Myths
1. New Yorkers are rude
Firstly, good luck finding an actual New Yorker in the sea of tourists in Manhattan. Secondly, they're really nice, helpful people. They just don't have time for small talk, and they get pestered by tourists THE WHOLE DAY. During my stay, I asked a number of New Yorkers for directions. All of them were very helpful and polite, but matter-of-fact. They will help you, but then move on instantly. Don't expect to strike up a conversation about your holiday or where you're from. This isn't necessarily because they don't care, it's just because they're surrounded by tourists all the time. Also, they can barely walk 500m without a tourist stopping them to ask for directions. I actually started feeling bad for them towards the end.
2. McDonald's is better in the States
LOL.
3. The subway is unsafe
In New York, we took the subway at 2am and it was still safer than a Metro Rail train in peak time in South Africa. It's mucky and hot, but it's safe and efficient. (You should be vigilant regardless.)
4. People will ask you where you're from when they hear your accent
Everyone is a foreigner, everyone has an accent. No one cares about yours.
5. Uber is cheap
It's a no, fam. Uber is expensive and it's much more cost-effective to take the train, bus or if you really must – a yellow taxi.
My favourite spots
1. Coney Island
This was by far my favourite place in New York, and the main reason we ended up there was because of Lana Del Rey. In her song, Carmen, she makes reference to "Coney Island Queen" and I really wanted to see what it was all about. JP and I actually went to Coney to visit the New York Aquarium, but part of the aquarium was closed due to hurricane Sandy. So we ended up leaving and spending the day on the boardwalk of Coney Island. It's hard to put into words how this place made me feel – it was so spectacularly eerie and in such stark contrast to the eliteness of Manhattan. We absolutely loved it!
2. The High Line
The High Line is a 1.45-mile-long elevated train rail that was revamped into a park. It is incredibly lush and peaceful. We went there on an overcast, hot day and kids were playing in the water streams while others lay on the loungers – reading and chatting with friends. This is one of my favourite things about New York; their love for reading. I found people reading on the subway, waiting in queues, on benches in Central Park… They're always reading! If you do end up at The High Line, take a walk through the Meatpacking District afterward. We saw a shoot happening in the Armani studio that's visible from The High Line, and later on we saw a mobile fashion shoot next to the Chelsea Market. They were driving a fashion shoot on a trailer through the streets of New York – crazy! We also saw a lot of paparazzi in this area, and I spotted Miss J Alexander from America's Next Top Model in the crowd. The buzz in this area was palpable if you're into fashion and pop culture – it's a must-see!
Entry to The High Line is free.
3. The Staten Island Ferry
I liked it, because it was free and it gave me an incredible view of Manhattan and The Statue Of Liberty. Pro tip: You don't have to go to Ellis Park to see Lady Liberty. Pro tip 2: Don't fall for the people trying to sell you expensive boat tickets to Staten Island – the ferry is sufficient, and it's free! (We actually saw this tip on Trip Advisor before going, and I didn't think it would be so bad. But when we got to the ferry entrance, we were bombarded by people trying to sell us super expensive boat trip tickets and they don't take no for an answer. Stand your ground!)
4. Wall Street
We never intended on going to Wall Street, but the Staten Island trip took us far less time than we thought it would. So we found ourselves with something that's hard to come by in New York City: free time. We looked at Google Maps and saw that Wall Street was just around the corner and decided to walk there. This area of the city was such a breath of fresh air from the crowds in midtown, and I absolutely loved the business atmosphere and grandiose architecture.
5. Central Park
What kind of tourist would I be if I didn't fall in love with Central Park? There's one word that describes this place perfectly: harmony.
6. The Brooklyn Bridge
I loved everything about New York, but I have to admit that I wasn't the biggest fan of Brooklyn. When I mentioned this on Twitter, a few of my followers suggested that it may have been because we only went to Williamsburg. We spent the day there, and eventually made our way to The Brooklyn Bridge where I had to work really hard not to cry all over my camera – it was just so breathtaking. It's free, it's beautiful, it's…okay, it's massively crowded. But as with every place in NYC, you'll find the crowds are extremely organised and easy to move through. As an introvert, I can vouch for the fact that I never, ever felt overcrowded or overwhelmed by people. Even in the hordes at the Columbus Day Parade – there was a very strict flow of people. Pedestrians always keep right, they wait at traffic lights and never break the rules, because jaywalking is illegal and they are law-abiding citizens of The United States of Murica.
6. The Rockefeller Centre
As a tourist, it is absolutely crucial that you get the same photo of the New York skyline as every other tourist before you. For this, you can either go to the top of The Empire State Building, or Top of The Rock. JP and I opted for the latter, and I am so glad we did because the building was literally built on The American Dream. GOLD EVERYTHING! It's a little pricey to go to the top, and once you get there you might find yourself wondering why you paid to go and stand on top of a building for half an hour. But even if you're underwhelmed by the experience, you'll love everything else about the building.
Be sure to grab a Blue Bottle coffee downstairs (it's apparently the best coffee in New York, and brought JP to tears) and head outside to Rockefeller Plaza where you can skate or people-watch to your heart's content. You can also do the NBC studio tour inside the Rockefeller Building or head to Radio City Hall. This is where the Paramore concert was held – sadly I don't have any photos, but this building is also mind-blowing on the inside, and it was one of the most well organised (and polite) concerts I have ever attended. Seriously New Yorkers are so polite. JP also attended a concert where someone lost their phone in the moshpit, they then stopped the whole moshpit until the guy's phone was found and then continued head-banging.
7. Bryant Park
This place is actual magic. After a very, very long day I was extremely tired and limping from walking so much. My bladder was full, and we couldn't find a McDonald's for me to use the loo. (THERE ARE NO PUBLIC BATHROOMS IN THIS CITY.) When we got to Bryant Park, we found a public bathroom and I was prepared to have to walk through the Valley of Shadow and Death to have to use the toilet.
It turned out to be the most beautiful, clean, 5-star hotel grade bathroom with a concierge. And it was…free? I couldn't believe it. At this point, I'd seen most of New York, but at that moment a public toilet impressed me the most.
Afterwards, we went to Wholefoods and bought an excessive amount of snacks, and sat on the steps of the now-closed park and had a feast.
8. Times Square
Duh.
9. Korean BBQ
I wasn't that into China Town, or even Little Italy, but I loved Korea Town. JP's cousin, Mike, took us out for Korean BBQ, and it was the most colourful meal I've ever had. It was an incredible experience, not only because of the delicious food and good company but also because of how we arrived in Korea Town. Mike tried to hail us a yellow cab in Broadway, but it was so busy that they kept driving past us. Eventually, a guy in tuk-tuk pulled up and offered us a lift. We were mildly horrified, not only because of the idea of driving down bustling Broadway in an exposed tuk-tuk, but also because we saw what he charges per hour. Mike was still dead keen, and he started bartering with the guy – eventually getting us a trip to Korea Town for about R250.
It.
Was.
Amazing.
We were like children! I literally couldn't stop laughing. This guy was a phenomenal driver ; he squeezed in between buses, zipped between cars and dodged all kind of obstacles. Seeing New York from a tuk-tuk wasn't even on my bucket list, but it should be on yours – it's exhilarating! (THANKS, MIKE!!)
10. Joanne's
I am a diehard Lady Gaga fan, so I couldn't leave New York without visiting her family's restaurant in The Upper West Side. I've never been more uncool in my entire life. I tried so hard to act cool and pretend that I'm not a fangirl, but the waitresses are definitely so used to people like me coming in and just eating a pizza – she totally knew why I was there. It was pricey. The pizza was huge. I was awkward.
It was 100% worth it.
---
We'd love to travel to Morocco later this year, so hopefully I can do another article for you very soon!