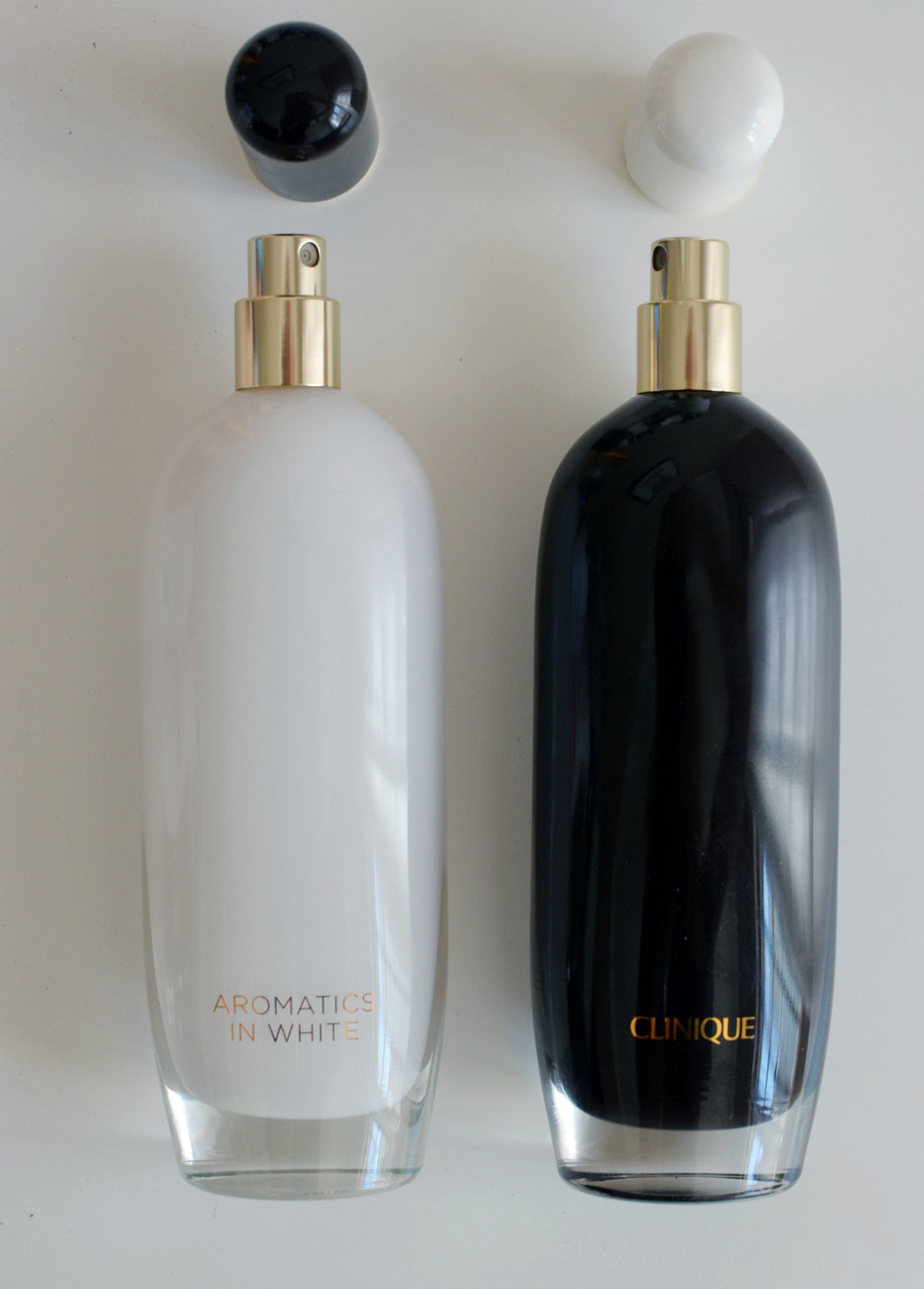 06 Feb

Aromatics in Black Or White

When I think about Aromatics, I think about watching my mom get ready for work and the smell of her hugs. It used to be her favourite perfume back in the day, and so by association – I've come to think of it as a scent for a mature woman.

But then Clinique sent me the new Aromatics In White and Aromatics In Black, and I was like: YOH!

I like to judge a book by its cover, so I was firstly impressed by the bottle design which is beautifully simplistic and stylish.

Then, when I opened the perfumes – I was happy to find that even though they're very different to each other, they're both perfect for a woman of any age.

So let's talk about Aromatics in White.

Here's how Clinique describes this scent:

"Clinique Aromatics in White opens with a bold and invigorating rush of crisp Violet Leaf accord along with ambery Cistus and Sichuan Pepper, which instantly draw you deeply into the scent.

The middle notes of the fragrance center around the translucent rose petals of Rose Water Essential combined with lush Orange Flower and rich Patchouli Heart for a harmonious blend of colours, scents and textures.

The bottom notes enhance the mysterious and seductive layer of this scent with Amber Gris and Skin Musk, and the alluring power of Benzoin."

As I mentioned, I think both perfumes are lovely – but personally Aromatics In White the orange flower note is a little bit too strong for me. I like my perfumes to be a little bit more subtle, which is why I was so pleased to find that Aromatics in Black ticked all the right boxes for me.

"Clinique Aromatics in Black opens with the alluring and bold energy of a crisp Plum Leaf Accord, succulent Pink Grapefruit and bright Italian Bergamot, which instantly draw attention.

The middle notes, Osmanthus and Neroli blend to create a sparkling invitation to an elegant bouquet of floral beauty. Jasmine Sambac rounds out the central notes with a duality that expresses multi-faceted dynamics of femininity.

The bottom notes bring a warmth and sensuality to the scent as Myrrh expresses a slightly daring aroma yet bold feminine sensuality. The seductive signature blends with Vetiver Heart LMR and Tonka Beans to exude a dark yet comforting warmth that evokes a modern elegance in a timeless signature scent."

Both perfumes are powerful, and will last the whole day. I sprayed some of the Aromatics in Black this morning at 09:00, and it's now 17:00 and I can still smell it.

I'd highly recommend that you go and test these fragrances in store to find out which scent suits your style. If you do so – please tweet me to let me know which one you liked!

You can also shop them online here.

Clinique Aromatics in Black (100ml) counters for R1395.

Aromatics in White (100ml) is also R1395.
P.S. The treats are from LionHeart patisserie, and were absolutely delicious! Their Instagram is made of dreams – check it out here.